Thermal Transfer and Direct Thermal Labels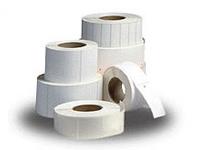 Thermal transfer labels are printed on a thermal printer, which uses a heat-sensitive ribbon to transfer ink onto paper to create an image. Thermal transfer labels can be in black and white or in colour as ribbons are available in different colours. The images from thermal printers are vivid and long- lasting, and as a result are ideal for printing images that are smear-proof and resistant to fading, such as bar codes and graphic images and text.
Direct thermal labels are made through a direct thermal printing process and does not require ribbons, ink, or toner. The direct thermal printing process uses heat on selective areas of a chemically coated thermal sensitive paper to apply an image. Direct thermal labels are widely used in the food industry and major transportation companies. However, there are many uses for direct thermal labels such as barcodes, name tags, coupons, and tickets to name a few.
Both labels are offered fan-folded or on rolls and come in various sizes. Please request a quote or contact us with any questions.